FULL-SERVICE CONTRACT FOR THREE WIND FARMS IN SWEDEN
Customer: ARISE AB, Halmstad/Sweden
Benefit: Full Service Plus, as of 1 January 2021
Contract duration: 5 years
Projects: 21 WTGs, all GE 2.5 and 2.75 MW
Locations: Brunsmo, Kaphult, Fröslida
WIND NOW service base: Halmstad
24/7 Control center: greenwind control
Project management: Andrei Petrescu, WIND NOW
Interview
ROUND THE CLOCK IN HALMSTADT
WIND NOW enters the Swedish wind market with ARISE AB. According to the agreement, WIND NOW takes responsibility for all components and guarantees decreasing operating costs as well as high availability. An exclusive service station in Halmstadt was installed for the customer by Andrei Petrescu and his team.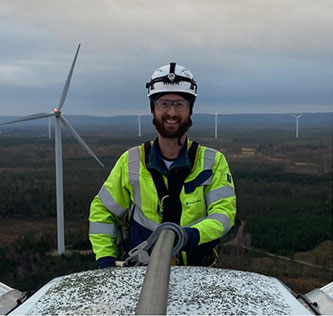 WIND NOW Andrei, as project manager at WIND NOW, you built up the service team for the service base of the ARISE wind farms in Sweden. What are your tasks on site?
ANDREI PETRESCU We ensure that all resources and personnel are available around the clock at the Halmstadt base. In order to be able to remedy a malfunction within the shortest possible time, we keep spare parts, tools and vehicles on hand for three wind farm projects.
WIND NOW What possibilities does the control center offer?
ANDREI PETRESCU The wind turbines are perfectly monitored 24/7 with the support of our control center. Our experienced control center attendants can quickly detect faults and thus keep the WTGs on the grid for as long as possible. If a fault cannot be remedied remotely/by remote maintenance, the control center dispatches our regional teams. The control center is also able to adjust the output of the wind farm to the needs of the grid operators.
AS AN INDEPENDENT SERVICE PROVIDER, WE GUARANTEE FAST RESPONSE TIMES IN THE INTEREST OF MAXIMUM CUSTOMER SATISFACTION.
WIND NOW What special challenges does your team face in Sweden?
ANDREI PETRESCU In other countries, of course, action must be taken according to the laws and possibilities there. Here, the project has to be set up within about three months. Thanks to a great team, we were able to open the service hub in Sweden on 1 January 2021. This will give us all the resources we need to deal with disruptions. The current big challenge is COVID-19. Due to changes in lockdowns and travel restrictions, both in Germany and Sweden, we have to constantly adapt our processes.
WIND NOW How does WIND NOW convince its customers?
ANDREI PETRESCU For our customers, we provide service teams trained on their wind turbines. This allows us to react directly and flexibly. We form teams with experienced specialists. In addition, the turbines are checked and maintained in detail during the maintenance campaign. As an independent service provider, we guarantee fast response times in terms of maximum customer satisfaction.
The interview was conducted by Anke Kuckuck.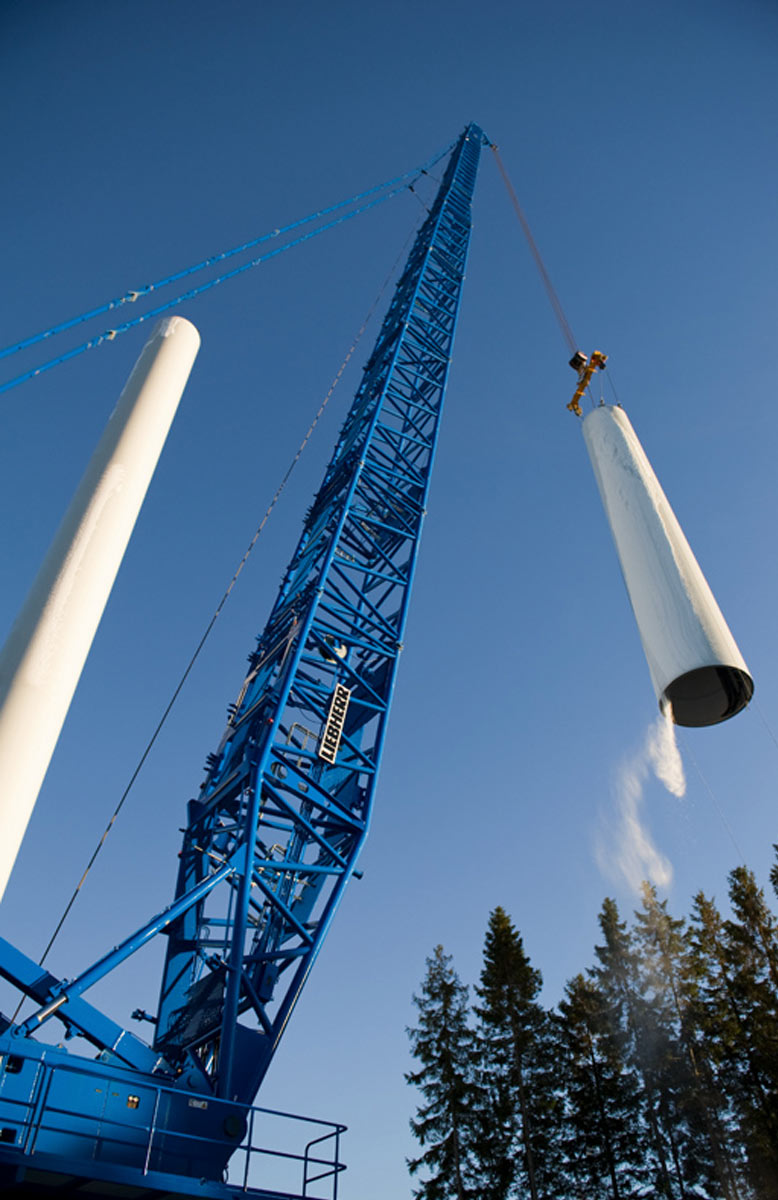 OUR THREE COMBINABLE SERVICE PACKAGES, TOGETHER WITH THE ADDITIONAL SERVICES THAT CAN BE USED INDIVIDUALLY, ENSURE LOWER OPERATING COSTS AND SUSTAINED HIGH AVAILABILITY.